#{title}#{text}
#{title}#{text}
#{title}#{text}
#{title}#{text}
#{title}#{text}
NOOMA Pre-Workout Energy Drink Lemon Lime
$3.79
$3.40
12 fl oz
Lemon Lime - Pre-Workout Energy Drink
Green Coffee Beans, Electrolytes, Adaptogens
This organic pre-workout drink is loaded with a powerful combination of caffeine from organic green coffee beans, electrolytes from coconut water and Himalayan pink salt, and an adaptogen blend that delivers a boost of energy and focus. It's an energy drink you can feel and feel good about.

Only organic & real ingredients. No added sugar, artificial ingredients, or chemicals you can't pronounce. NOOMA carefully selects everything you need so you can feel better, and perform better.


Ingredients: Reverse Osmosis Carbonated Water, Organic Coconut Water from Concentrate, Organic Lemon Juice from Concentrate, Organic Flavor (unique to each flavor), Organic Maca Root Extract, Himalayan Pink Salt, Organic Caffeine from Organic Green Coffee Bean Extract, Organic Stevia Leaf Extract, Organic Lion's Mane Mushroom Extract, Organic Ginseng Root Extract, Organic Ashwagandha Root Extract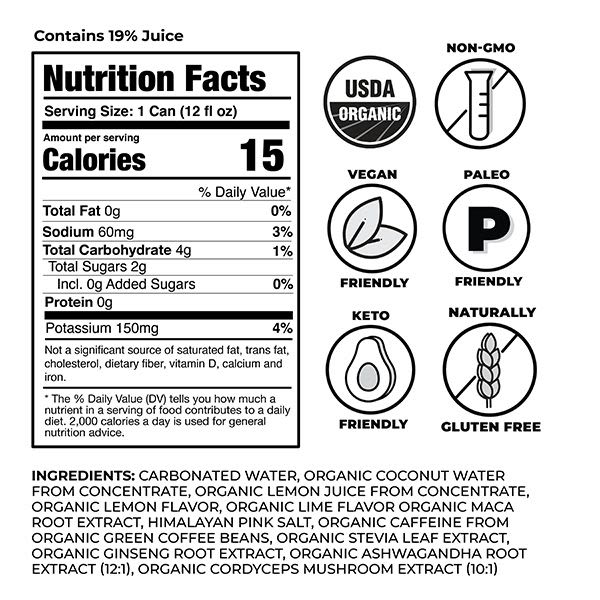 Hi, we're the NOOMA Bros. And since day one, we've been committed to providing the highest quality products to fuel workouts and active lifestyles. We made it our mission to combine the science of sport nutrition with the highest quality, functional ingredients in a way no company has ever done before.
The NOOMA journey began for us as hockey-playing brothers who couldn't stand the sugar-packed, artificial sports drinks we'd been given our whole lives, all the way up to our time as professional athletes.
The whole thing made no sense. We're competing at the highest level, yet we're given products based on big corporate partnerships, not what's actually good for you. So we followed a different set of rules. Use only organic, plant-based, and real ingredients and have products that taste great without the extra sugar and actually work.
The other part of our mission was to make our company be more than just a drink. That's why we're proud to be a certified B-Corp, have a Sweat + Do Good division of our company, be integrated in fitness communities across the country, and only hire team members that share our core values. It all helps us achieve our ultimate goal of helping and empowering people to be the best, healthiest versions of themselves.


Brandon and Jarred,
The NOOMA Bros
P.S. That's us with our mom and her dog
Customers also added these items