#{title}#{text}
#{title}#{text}
#{title}#{text}
#{title}#{text}
#{title}#{text}
0
added to delivery
Mom's Gourmet Gallopin' Gourmet Shake
$6.00
$5.49
3.25 oz
Herbalicious!
Fresh Dried Herb Blend
Great with Veggies, Meats, & Melts!
Fresh dried herbs, tarragon, chive, parsley, oregano, minced onion and garlic combine with course-ground green peppercorns provide enough flavor to kick-up your heels. Blended for shaking on grilled, roasted, and steamed veggies. But please, don't hold yourself back. Shake it on fish, poultry, and shellfish. Add Gallopin' Gourmet to vinegar and oil for a salad dressing. Mix it with cream cheese, sour cream and garlic for a spread. We even softened butter, add Gallopin' Gourmet Shake, and spread it on warm, crusty French bread.
Mother/Daughter Duo Shakes up the Spice Industry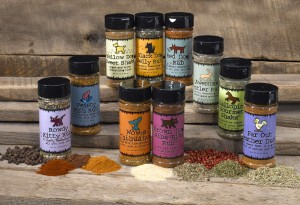 Incredible friends and business partners, the mother/daughter duo first began experimenting and grinding their own handcrafted seasonings and spice blends one holiday season to give them as gifts to friends and family. Their curiosity in the kitchen led to more and more requests, and the two set their sights on creating spice blends that had more character than what was available on store shelves. They didn't like the sodium and sugar content that most blends contained, and knew there was a niche not being fully met for people who wanted to enjoy easy, flavorful meals while trying to live a healthy lifestyle.
Through intense collaboration, a whole line of products was created that offer delicious taste and natural ingredients. If you haven't tried our spice and seasoning blends, we encourage you to shake on our goodness. Then grill, broil, stir, sauté or bake, and enjoy!
Customers also added these items